Material Queen
Material Queen is a 2011 Taiwwanese Drama, filmed in Taiwan and France. It stars Van ness Wu (Male lead) and Lynn Hung (Female lead).
Lin Chu Man (Lynn Hung) is a fashion model, looks beautiful and stand outs from other models, she does not care about a man's appearence whether their fat, short, ugly, young or old, as long as they're rich. she met Cai Jia Hao (Van ness Wu) and thought she had met her prefect guy, but she doesn't know that he is actually a hired body double for a billionaire "Mr. Norman". When she find out that Jia Hao is only a hired body double and his true identity is a penniless music student. she dumps him. Soon after she loses her job to a younger model, and her rich lover dumps and she finds out Cai Jia Hao will be her new roommate. While Chu Man and Jia Hao's is living together, they are forced to get to know each other.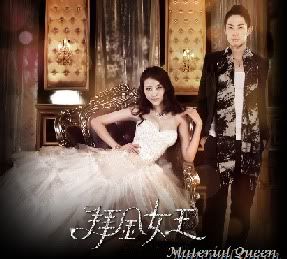 Throughout the drama, their relationship goes through many bstacles that challenges their love for each other. And soon she starts to question whether being rich is what life is all about.
Material Queen show auidences how much a person will give up to find true love. i personally recommend this drama to people who like romantic shows.

Love Keeps Going / 美樂加油:
Love keeps Going stars Cyndi Wang (Female lead) and Mike He (Male lead) Based on Taiwanese novel, Wang's Love Song.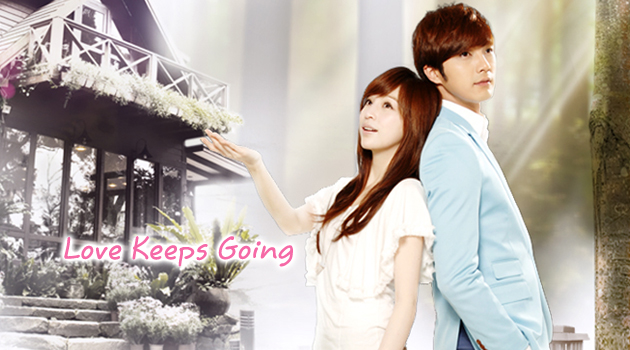 Zha Mei Le (Cyndi Wang) is humble, hardworking and over achiever, as well as caring and kind. Her impressive collection of certificates (including everything from IT expertise to a baking license) is evidence to her vigorous passion. But underneath the perfect person, is a bittersweet past. She found out as a young child that both parents did not want her while going through their divorce because of the fact that she was dumb. As a result, she feels like she needs to accomplish everything she does by working hard and approval by others. Even her boyfriend Han Yi Feng (Eli Shih) falls in love with her because of her many abilities. Mei Le helps achieve what she thinks is Yi Feng's dream of opening and running a bakery.
Yi Feng's brother is the spoilt, rich and famous Han Yi Lei (Mike He). Mei Le makes a awful first impression on him but she is determined to change that. However in a cruel twist of fate Yi Feng shows his true self and is not at all Mei Le thought him to be. Their relationship helps Mei Le rediscover herself and also learn to trust and fall in love again.
Love keeps going gives hope to people who have not had the best childhood to find meaning in life again.
Love Keeps going trailer
love you/

醉后决定爱上你:
Love you (醉后决定爱上你, Literally "Love you while we were drunk"

) starring Joseph Chang (Male lead) and Rainie Yang (Female lead) It is a second chapter of the

Fated to Love You

trilogy




Two strangers, both proposed marriage to their own girl/boyfriend, and were rejected on the same day. They decided that the best way to deal with the rejection was to get drunk, really drunk. During the 24 hours of their crazy drunkenness, these two strangers became fast friends and got married... to each other. When they finally sobered up, they got on on a mission to undo every crazy thing they did while they were drunk and prayed that their girl/boyfriend wouldn't find out. However, it turns out that Song Jie Xiu's (Joseph Chang) girlfriend, Ai Wei, doesn't want a scandal affecting her movie so she asks him to stay married to Xiao Ru (Rainie Yang) for three months. Jie Xiu and Xiao Ru develops feelings for each other, Ai Wei realizes how much she loves Jie Xiu and plans to reveal the fake marriage contract to the media so they could get back together, But it was too late. Their love grew too strong, it was unbreakable.

Love you shows audiences that even misfortunes can turn out to be a blessing.









W

aking Love Up / 愛情睡醒了:
Waking love up stars Tang Yan (Female lead) as Liu Xiao Bei and Roy Qiu (Male lead) as Xiang Tian QI/ Liu Xiao Yu.
Liu Xiao Bei's
(Tang Yan) character is a poor hotel maid, she is very hardworking. But because of an accident, she falls in love with the CEO of a major company, Xiang Tian Qi (Roy Qiu) who is selfish and careless. He loses his memory in an accident and is taken in by Xiao Bei's family, and becomes a new person with a different identity, Liu Xiao Yu, who is the opposite of his originally self, he is kind and caring towards Xiao Bei. They eventually fall in love, But when he regains his memory, the two face new challenges both in love and in business, and must work together to save both themselves and their homes.
Waking love up tells the story of fate and love that conquerors everything.
Waking love up trailer
In
Time with You / 我可能不會愛你:

In Time with You (

我可能不會愛你

,

Literally "I might not love you") is a Romance drama starring Ariel Lin (Female lead) and Bolin Chen (Male lead).
Cheng You Qing (Ariel Lin) is the manager of shoe department store. On her 30th birthday party, she receives an email from her best friend since high school, on "the symptoms of premature aging" from Li Da Ren (Bolin Chen), she disagrees with him, and bets Da Ren to see who will get married first before they turn 35. But Da Ren admits to his ex that he has been in love with You Qing the whole time. You Qing finds many potential husbands, but also discovers that the only man who could love her regardless of her temper and stubbornness is her best friend Da Ren. The only problem is their friendship.
In time with you is about the best things that happen at the most unexpected times.
Skip-Beat! (Extravagant Challenge) / 華麗的挑戰
Skip Beat is a Taiwanese drama based on the Japanese manga Skip Beat by Yoshiki Nakamura. It stars Ivy Chen (Female lead) and Choi Si-won (Male lead).
High school graduate Gong Xi (Ivy Chen) gives up her chances for university in order to support her childhood friend and romantic goal, Bu Po Shang (Lee Dong-hae) in his pop idol career. They leave to live in the big city, Taipei. Gong Xi starts working on multiple jobs in order to support Shang, who becomes popular quickly, eventually becoming one of the top idols in Taiwan. One day, Gong Xi learns that Shang only used her so she can help him with his living expenses. Now she is heart-broken and betrayed, Gong Xi swears to get revenge by becoming a bigger star. Gong Xi auditions for L.M.E., Taiwan's largest talent agency, and joins L.M.E.'s new-found department "Love Me". At L.M.E. famous actor Dun He lian (Choi Si-won), shocked by Gong Xi's reasons for joining the show business, constantly finds ways to annoy and taunt her. As Gong Xi's acting career starts to take off, she begins to discover a new sense of identity and purpose, separate from her original plans of revenge. Lian also eventually warms up to her, and although at first in denial, he finds himself falling more and more in love with her.
Skip beat tells the story of how betrayal and revenge adds principle to who we are and discover things that are more than what we are capable of.
Skip Beat Trailer


Sunshine Angel / 陽光天使:
Sunshine Angel stars Wu Chun (Male lead) and Rainie Yang (Female lead).
Sunshine is a poor, but cheerful girl who lives with her sacrificing, loving Grandmother. Despite the fact that they love her, her parents are extremely irresponsible con-men and have left her with a hundred-thousand yen debt. Her debtors finally give her an ultimatum-- if she doesn't pay her parent's debt, she must go to jail for 300 days or become a maid for a rich family, using her wages to pay the debt. She agrees to become a maid. A bad incident occurred with a guy who turns out to be her new boss. As conflicts arose, so does the feeling for each other. They eventually fall in love.
Sunshine angel is about unpredictable things that could happen anytime.
Sunshine angel
Office Girls / 小資女孩向前衝:
Office Girls stars Roy Chiu (Male lead) as Qin Zi QI and Alice Ko (Female lead) as Sheng Xin Ren
Sheng Xin Ren (Alice Ko) is turning 25, and work as a low-level staff in the sales department of Jing Shi Department Store for nearly 4 years.
Qin Zi Qi (Roy Chiu), 28, is son of a wealthy family who just graduated from MBA in USA and returns to Taiwan. His father Qin Mu Bai (Shen Meng Sheng) is the chairman of Jing Shi Department Store.
Zi Qi thought that after his studies, his father would give him the rights to operate the Jing Shi Department Store. However, his father tells him that if he wants to take over the company, he must passes the test to work as low level staff in the sales department for 1 year, and obey the 5 rules, if he breaks any of the rules, he better be prepared to find another job.
As a result, Zi Qi's lifestyle changed throughout the 365 days. He becomes an employee and is taken as a low life, unlike the luxury life he had before. After a while he got used to a normal life and began to enjoy working in the sales department. Zi Qi finds himself falling in love with Xin Ren. Mu Bai hires Yu Cheng Feng (James Wen) as the new general manager, who is Zi Qi's competitor in the business and Xin Ren's love.
Office Girls is basically a romantic drama involving two people from two different societies who fall in love.
Sunny Happiness is a Taiwanese drama starring Mike He (Male lead) as Xiang Yun Jie and Janine Chang (Female lead) as Fang Yong Yong.
Xiang Yun Jie (Mike He) as a student had a great love story, divorced once and ended up getting married, and unknowingly had an eight year old son. He can only rely on Fang Yong Yong (Janine Chang) who is married to him from the marriage contract. The two of them started their fairytale like love story from a fake marriage. As their feelings for each other develop, will the contract end?
Sunny Happiness Opening theme song
Inborn Pair / 真愛找麻煩
Inborn Pair stars Chris Wang (Male lead) as Ke Wei Xiang and Annie Chen (Female lead) as Song Yi Jie
Resort president Ke Wei Xiang (Chris Wang) has everything he wanted except his special someone, he is willing to fulfill his grandmother's dreams, which was for him to marry the granddaughter of the man who saved her life. Song Yi Jie (Annie Chen) is a legal assistant at a law firm who is in the process of getting her lawyer's license. She is a righteous young woman who believes in standing up for justice and doesn't care for love when she's got a career to purse. At first they meet each other in the worst way possible. Wei Xiang thinks Yi Jie is a home wrecker while Yi Jie mistakes Wei Xiang for a guy who toys with women.
Comment your favorite Taiwanese dramas of 2011